Mobile furniture
We are a Polish manufacturer of medical trolleys.
We offer various solutions and materials, all depends on the customer's needs and application of the mobile furniture.
The medical trolleys are performed in three different series:
metal medical trolleys made of galvanized steel powder-coated with paint with antibacterial properties
metal medical trolleys made of stainless steel AISI 304
metal medical trolleys with bodies constructed on aluminum profiles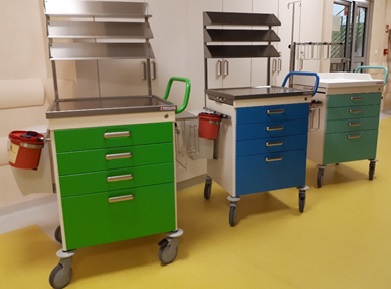 The line of medical trolleys, manufactured by our company is a supplement to the offer of our stationary medical furniture.
The technology of performance:
Doors and drawers of trolleys are made of double metal sheets with water-resistant soundproofing
C shaped handles are made of zinc and aluminum alloy with the effect of the brushed stainless steel
There are oval cavities beneath the handles which facilitate their grasping
Drawers of different heights and widths, made in a box technology are mounted on roller runners with the full extension and the self-closing mechanism
Inner walls of bodies are fitted with fixings for easy height adjustment of inside shelves at every 25 mm, which allows for the optimal use of space
Hinges with an adjustment of fronts in all directions enable opening of the doors at the angle of 160 °
Worktops of trolleys are made of high-quality ABS plastic or stainless steel. Worktops with rims or three-sided flange
Ergonomic handle Ø 25 mm, comfortably shaped for easy rolling of the trolley
Chassis: 4 wheels Ø 125 mm, 2 wheels with brakes
Buffers in the form of rotary rollers, protecting the trolley during transportation
Bodies are made of double, galvanized, painted metal sheets with soundproofingor made of stainless steel or constructed on aluminum profiles forming the frame and filled with high-quality laminated boards, conforming E1 hygienic class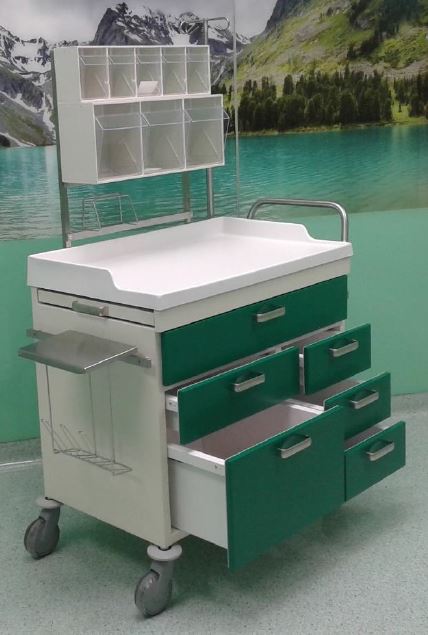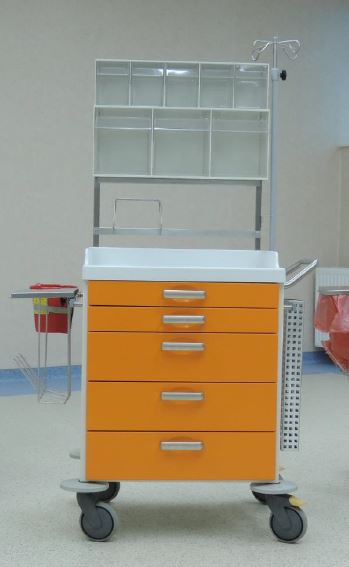 No products were found matching your selection.